PRESENTATION
A special place
for special events
We are the nr. 1 Business & Event Center in East-Belgium, entirely dedicated to comfort, elegance and hospitality. This building from the 18th century is classified as a monumental heritage and is located a few steps away from the Eupen train station and the city center. This business & event center, allows multiple and flexible usages with accommodation possibilities, all in a casual though elegant and stylish atmosphere.
With love to details, we create an atmosphere characterized by the design, history and tradition of the convent. We guarantee you a unique and memorable experience.
Let yourself be enchanted!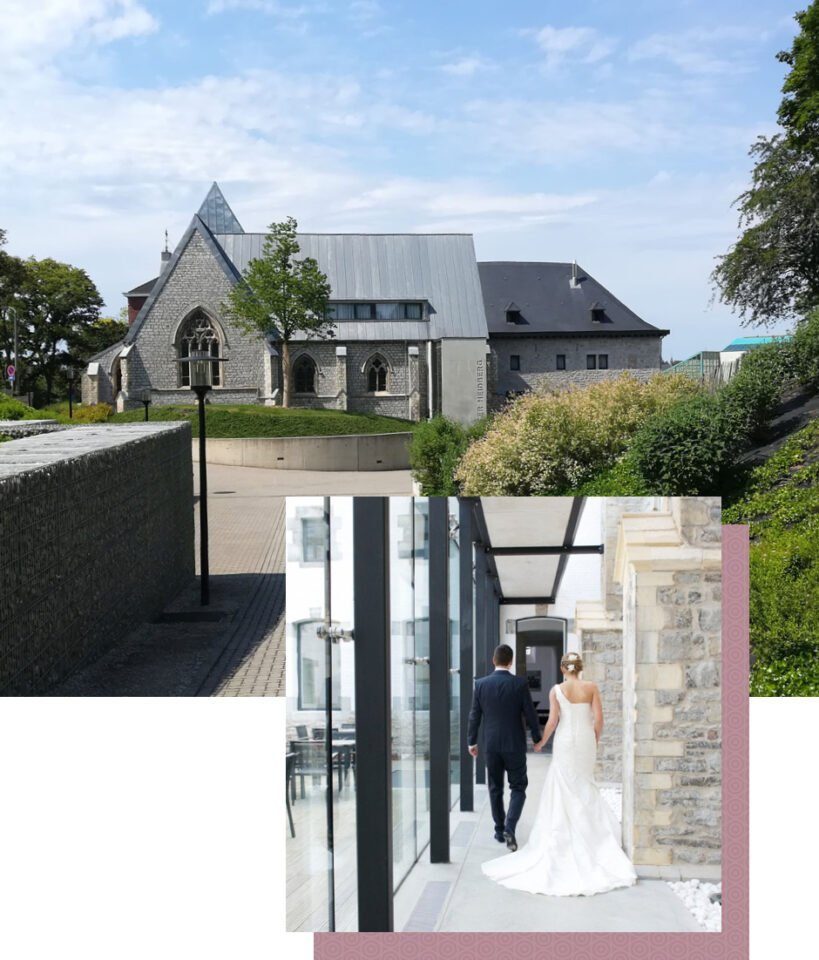 Our benefits at a glance
5 seminar rooms (up to 285 m²)
38 double rooms (including 1 for persons with reduced mobility)
Multilingual service
Restaurant with a capacity of up to 76 people

Completely barrier-free ♿

Private parking (80 vehicles, 4 for persons with reduced mobility)
Chapel for conferences, performances, chamber music, receptions and parties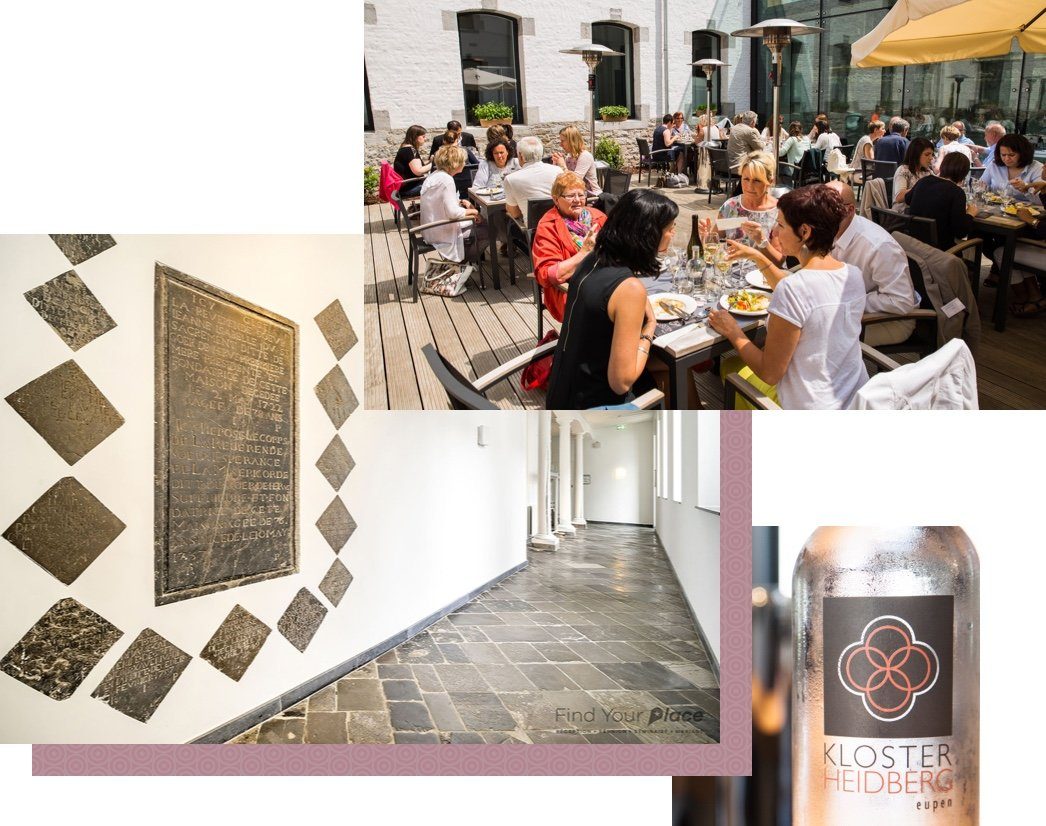 What we offer you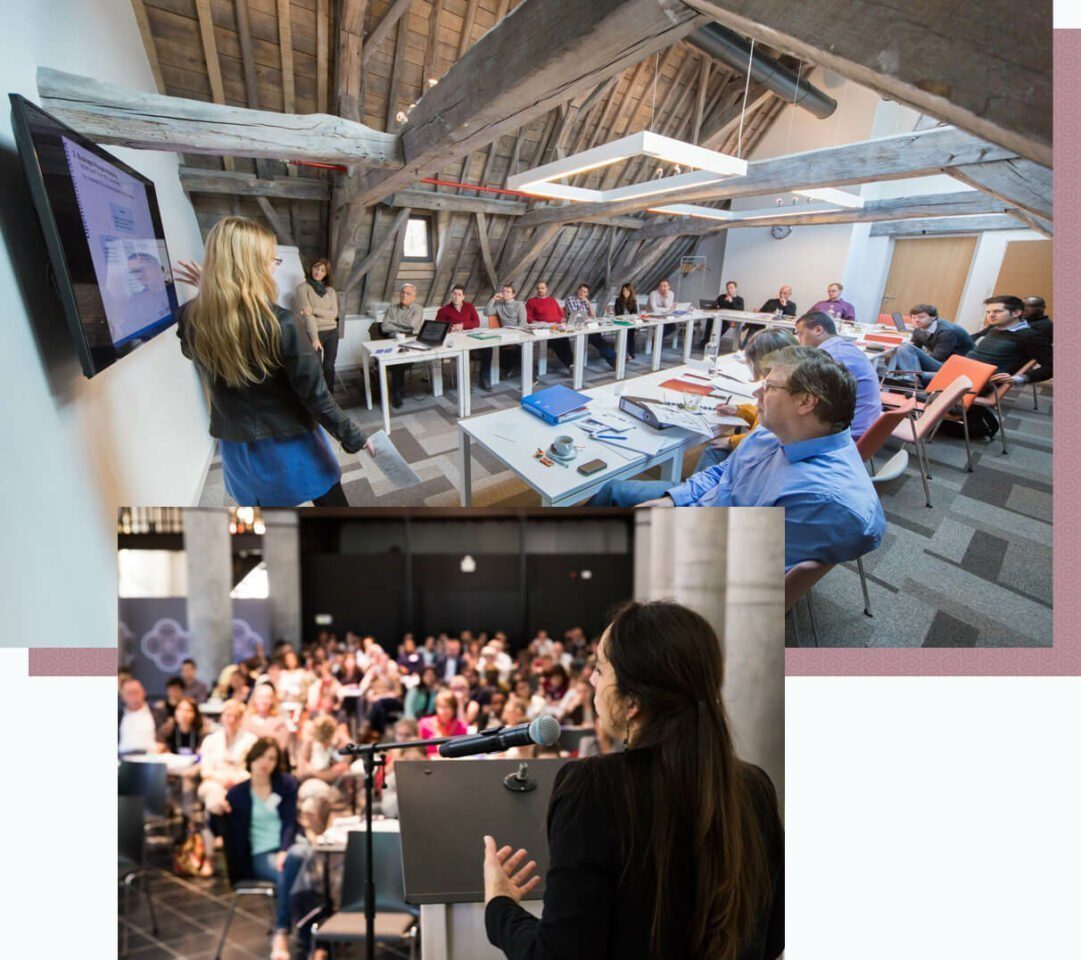 WORK SUCCESSFULLY
Workshops &
Meetings
If you want to be certain of the success of your meeting or conference, then you are at the right place in the convent. A unique ambiance awaits you here, where you can concentrate on your work and feel completely inspired at the same time.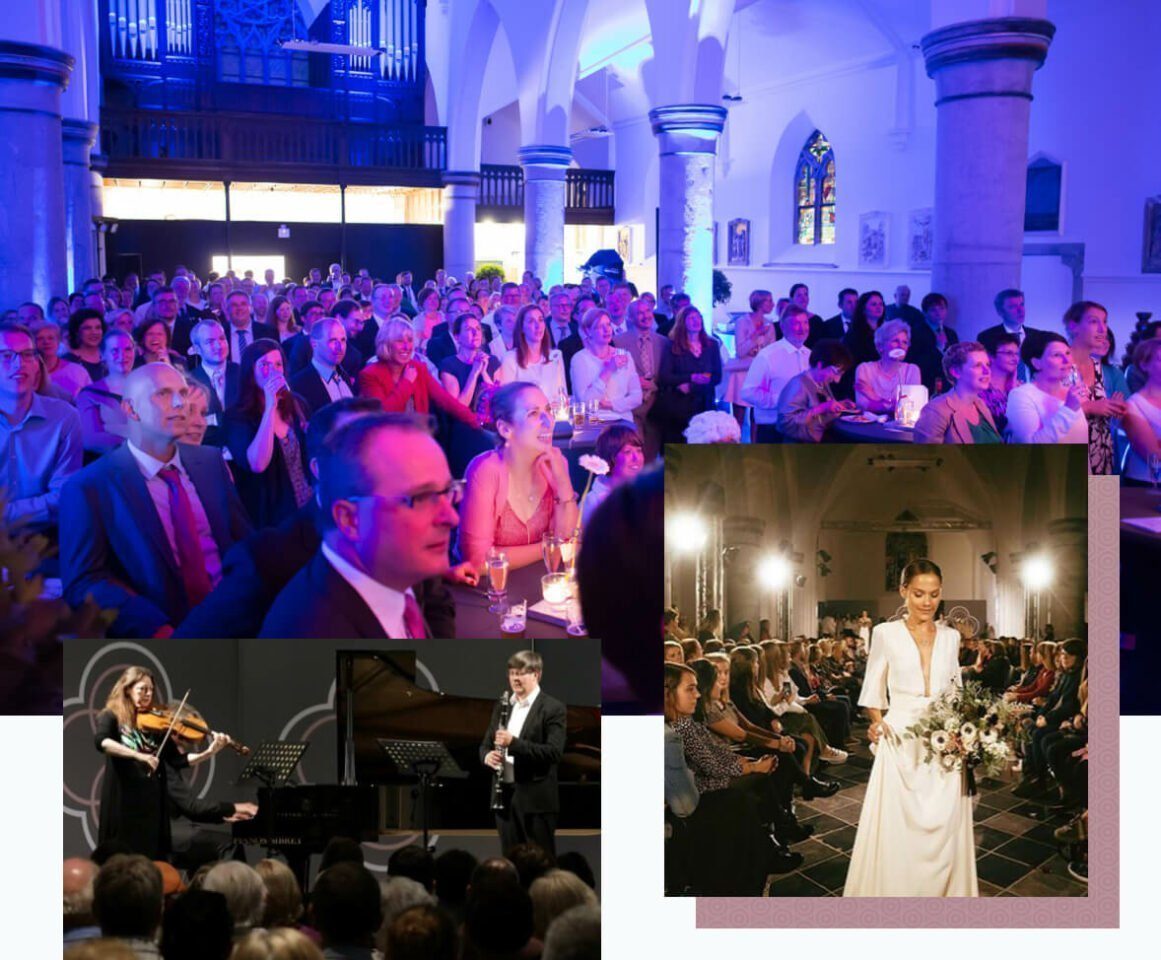 UNFORGETTABLE MOMENTS
Parties and
Events
The Kloster Heidberg is located in an idyllic park. The former convent has been completely rebuilt into a modern and multifunctional business and event location for up to 300 guests and hotel accommodation for 76 people.
The showpiece, the chapel, offers the ideal setting for all kinds of events, company parties, weddings, concerts or other festivities.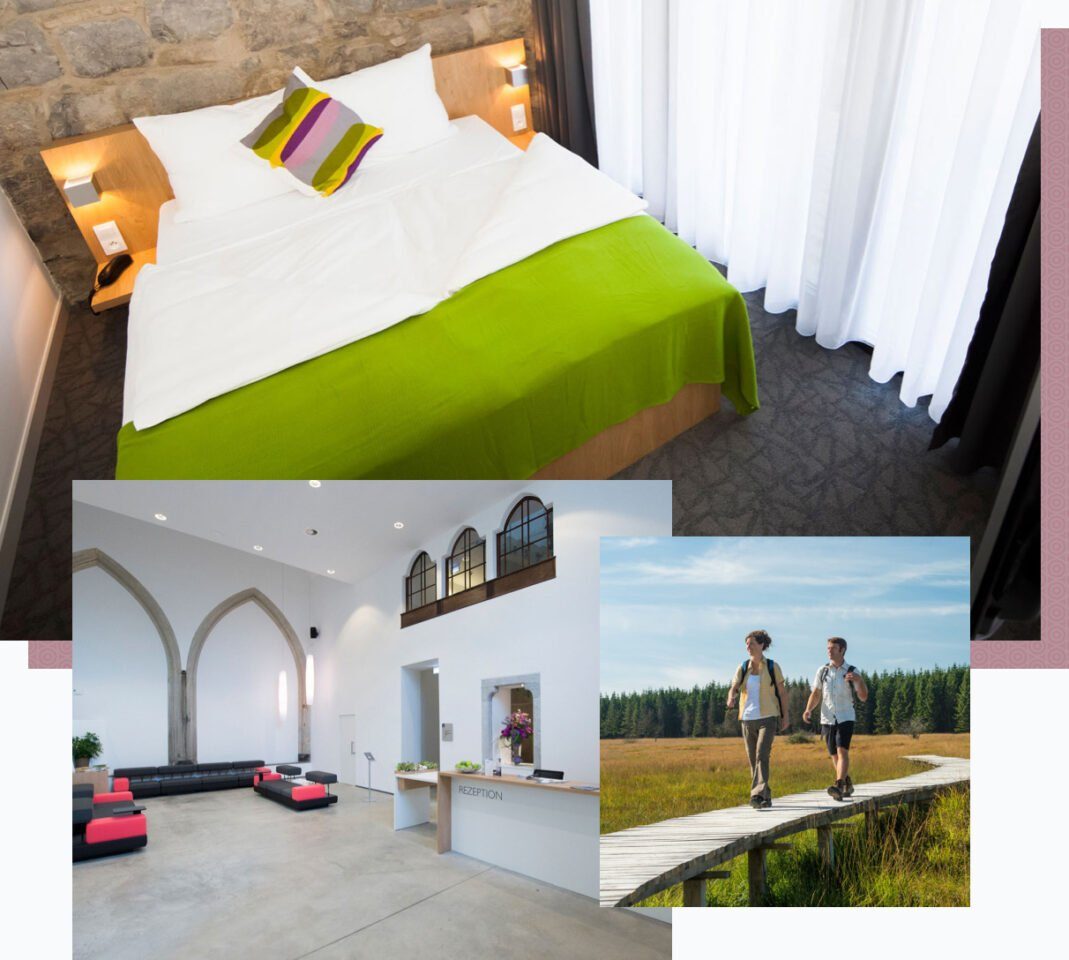 RELAX IN A SPECIAL AMBIENCE
Spend the night
in the monastery
38 small but beautiful and modern rooms with love for detail.
All rooms have free WiFi, flat screen digital tv/radio, phone, air-conditioning, safe, hairdryer, shower or bathtub.
One room is adapted for persons with reduced mobility.
This might also interest you
Modern technology in old walls. We prepare all rooms according to your wishes - from the seating to the technical equipment. We handle the organisation of your meeting or event for you, so you can focus on your business.

Do you want to have breakfast and a walk in Belgium, go cycling in Germany and drink coffee in the Netherlands, all within one day? Then the Euregio Meuse-Rhine is the right place for you!

A location that is all about comfort, elegance and hospitality. With great attention to detail, we create an atmosphere characterised by the beauty, history and tradition of the convent, promising you a unique and unforgettable stay.

Even the brightest mind needs to relax! Whether sporting, culinary or cultural, we will be happy to organise your perfect team building activity.
We are the host venue par excellence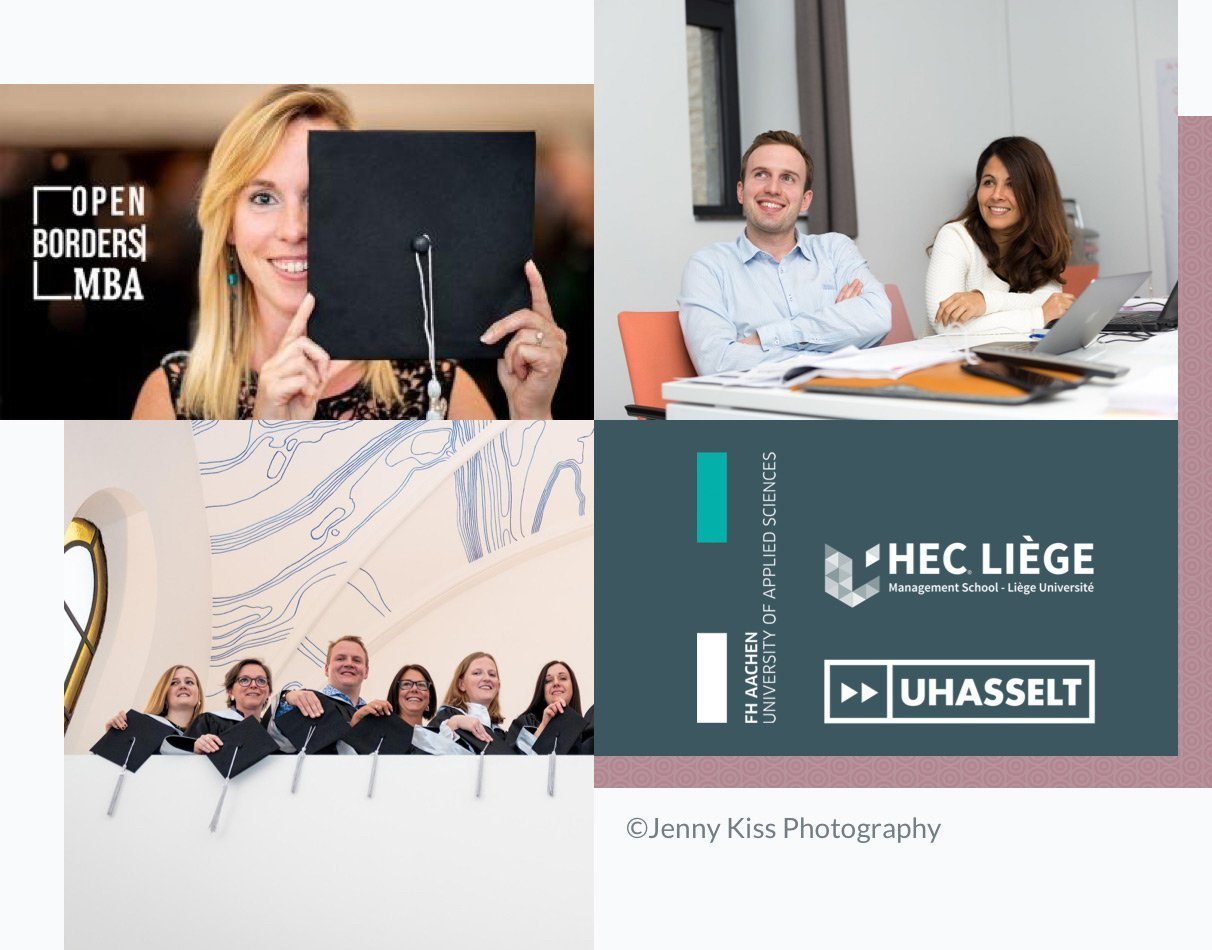 Take your career to the next level
Open Borders
MBA
The Open Borders MBA is a high-level executive program for experienced managers from the Euregio and beyond. It is jointly designed by 3 academic partners: HEC Liège, UHasselt, and FH Aachen University of Applied Sciences and hosted at the Kloster Heidberg thanks to the support of the German-speaking Community of Belgium.
ALDI SA / Altiplan Architects / Anwaltskammer Eupen / Babor / BDO Belgium / Belfius Bank / BergHOFF Worldwide / BET Büro für Energiewirtschaft und technische Planung GmbH / Blycolin / BNP Paribas Fortis SA / Boston Scientific Corporation / Carpus+Partner AG Caterpillar Inc. / Chocoladenfabriken Lindt & Sprüngli GmbH / DEHA Elektrohandelsgesellschaft mbH & Co.KG / Deutsche Forschungsgesellschaft für Oberflächenbehandlung e.V. / Dienststelle für Selbstbestimmtes Leben / ETHIAS – Aussurances Belgique / Verzekeringen België / Euregio Maas Rhein /  European Commission / European Group of Surveyors / Exclusive Online / Fédération du tourisme de Liège  / Föderale Kriminalpolizei Eupen / Grenz Echo / Groen – Ecolo / Grünenthal GmbH Aachen Hamacher Weissdruck / Hermann Niermann Stiftung / JCI Belgium / KBC Group / KFCO Beerschot Wilrijk / Kiwanis  Service-Club / Kompan Commercial Systems / Konrad-Adenauer-Stiftung / MBA FH Aachen / MBA HEC – ULg Liège / Ministerium der Deutschsprachigen Gemeinschaft / Ostbelgien Classic / Parlament der Deutschsprachigen Gemeinschaft / PFF Fraktion / Polytex AG / Province de Liège / regio iT Gesellschaft für Informationstechnologie mbH / RWTH / Sartorius Stedim Biotech SA / SP Fraktion / Sparkasse Aachen / Staatsarchiv Eupen / Stabstelle Internationaler Zusammenarbeit – EU-Projekte – Städtepartnerschaften – Landkreis Vorpommern – Greifswald – Der Landrat Stadtverwaltung Aachen / sYnlab Belgique  Laboratoire Collard / Taalunie Brussel / Tourismusagentur Ostbelgien / Uniklinik RWTH Aachen / Vertretung der DG Brüssel / VoG Hohe Seen / VUB – Vrije Universiteit Brussel / Wallonie Bruxelles Tourimsme / West Pharmaceutical Services / Wirtschaftsförderungsgesellschaft Ostbelgiens VoG / Wust SA – Bauunternehmen / Zaquensis